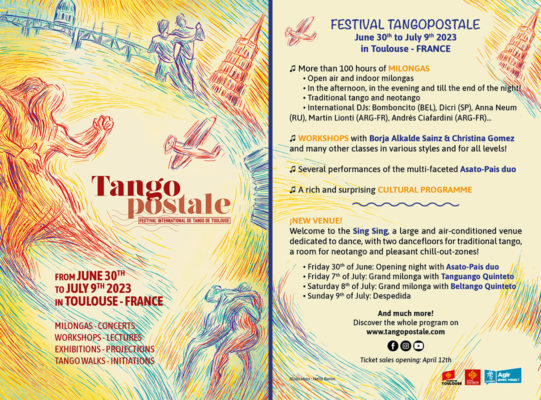 The association FITT (International Tango Festival of Toulouse) was created in February 2009 by a group of dancers, musicians and fans of "Argentine" tango and Latin American culture. Less than five months later, on July 1, the first Tangopostale festival (contraction of "tango" and "aeropostale") symbolically opened with an Argentinean meal at the "Bar des Avions", marking the dedication of its founding members to the the human and industrial adventure of the pioneers of transatlantic trade.
Since then, the festival has grown considerably, from 5 to 7 days in 2012 to reach its goal of 10 days in 2014, offering 2 weekends to Toulouse and festival-goers sometimes from far away (Russia, California, Venezuela, La Réunion,…). Prestigious cultural partnerships have allowed us to progress: Médiathèque José Cabanis, Film Library of Toulouse, Higher School of Audiovisual (ESAV), Cinélatino, Cinespaña, Regional Conservatory of Music and we can now rely on partner places such as the "Ombres Blanches" bookstore… Patrons support us and, something unusual for a festival, we have many direct members. Our cultural action is recognized by the Academia Nacional del Tango (Buenos Aires) and the governments of Argentina and Uruguay.
The aministrators rely on 60 to 80 volunteers, including a permanent team of about thirty people (programming, communication, logistics …). In addition, we can count on the support of several associations in the region (Montauban, Cahors, Agen, Auch, Tarascon) and of course Toulouse (Tangueando and Nueva Guardia in particular), both to contribute to the program and to participate in the logistics of the more than 80 events performed each year. We also have a network of more than 80 "ambassadors" in France and Europe as well as about thirty "messengers" who ensure the dissemination of communication established in three languages.
 You live more than 300 km from Toulouse and Tangopostale interests you?
Become an "Ambassador" of Tangopostale!